Location
Live in Manchester's
most iconic destination
Youthful, diverse, energetic and bursting with character; Manchester is an incredible city to call home where everybody and anybody is very warmly welcomed. If cosy cafes are your vibe, there are plenty of brilliant independent cafes such as one of our locals, Mancoco, or if you'd rather be exploring the city on foot there are canal-side pubs and bars to stop off at after a stroll along the Castlefield waterways.
On your doorstep, Deansgate Square is a now a Manchester destination it its own right, with an amazing selection of shops, bars quite literally within stumbling distance of your apartment. Relax with friends at ATOMECA our all-day European drinkery, then visit KITTEN, the striking new Japanese restaurant and cocktail bar, with a five metre high bonsai. Or grab essentials at the amazing General Store and add to your ever expanding houseplant selection at Flourish Manchester and go to dinner at family owned Salvi's restaurant. We've got your nights out covered if you want to stay local!!
Click on a category below to view our favourite places to visit in Manchester.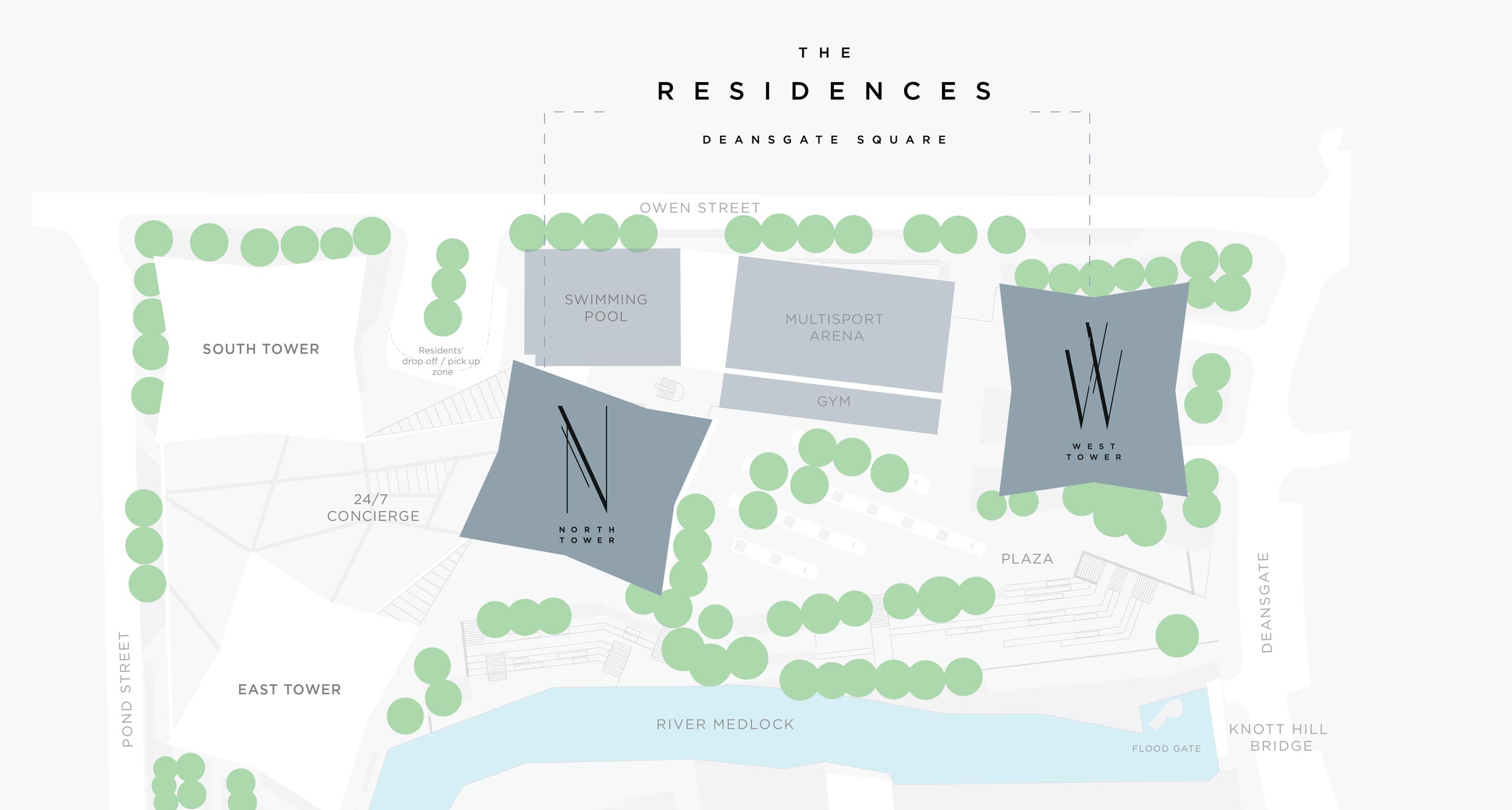 North Tower
9 Owen Street,
Manchester
M15 4UH
West Tower
Deansgate Square
371 Deansgate
M15 4UP
Cloud 23
Beetham Tower, 303 Deansgate, Manchester, M34LQ
Hilton hotel's smart cocktail and champagne bar on the 23rd floor of the landmark Beetham Tower.
The Fitzgerald
11 Stevenson Square, Manchester M1 1DB
A hidden gem. The Fitzgerald is an atmospheric drinking den, with splendid décor and a vintage vibe.
The Botanist Manchester
78 Deansgate, Manchester M3 2FW
Explore a secret garden of food and drink, where resident botanists craft unusual concoctions.
Neighbourhood Manchester
The Avenue North, Manchester M3 3BZ
A New York-inspired restaurant and bar offering a global inspired sharing menu accompanied by trendsetting cocktails, before effortlessly morphing in to one of the UK's hottest parties by night!
Menagerie Restaurant & Bar
One New Bailey, New Bailey St, Salford M3 5JL
Indulging guests in Manchester's must see vibrant dining experience. Offering brunch, lunch, dinner & drinks.
The Alchemist
3 Hardman St, Manchester M3 3HF
Specalising in molecular mixology cocktails and drinks this bar and restaurant offers all day dining in Manchester's Spinningfeilds.
Mr Cooper's House & Garden
16 Peter St, Manchester M60 2DS
Located in Manchester's Midland Hotel is this quirky hotel restaurant with lush garden inspired interiors, offering elegant seasonal food.
Gorilla
54-56 Whitworth St, Manchester M1 5WW
Under the railway tracks on Whitworth Street West is GORILLA, a new bar, kitchen, live venue and club space.
Dusk Til Pawn
Stevenson Square, Manchester M1 1DN
Prohibition-chic lounge with a pawn shop storefront serving craft cocktails, wine & beer.
The Oast House
Spinningfields, The Avenue Courtyard, Manchester M3 3AY
Once used to roast hops in the 16th Century this rustic-style pub offers a deli rotisserie and grill inspired menu with a selection craft beers and ales.
The Wharf
6 Slate Wharf, Manchester M15 4ST
A majestic red brick building perched next to the Bridgewater Canal, this pub restaurant offers a superb British menu and impressive bar stock.
Science And Industry
51 Thomas St, Manchester M4 1NA
This aptly named bar features its own back room laboratory where the team, cook up cutting-edge cocktail creations, pushing the boundaries of molecular mixology.
The Refuge
Oxford St, Manchester M60 7HA
A public bar and dining room set in 10,000 square feet of breath-taking space at the iconic Palace Hotel. Serving globally influenced small plates and sharing dishes.
20 Stories
NO. 1 Spinningfields 1 Hardman Square, Manchester M3 3EB
At the top of the No.1 Spinningfields building in Manchester, is this stunning rooftop restaurant, bar and terrace offering unparalleled city views.
Cottonopolis
Newton St, Manchester M1 2AE
A Japanese inspired restaurant and bar based in a Grade II listed building in Manchester's Northern Quarter.
Arcane
2 King St, Manchester M2 6EX
This cocktail bar is a basement lounge with slick Victorian décor evocative of the golden age of cocktail making.
Albert's Schloss
27 Peter St, Manchester M2 5QR
Bavarian-style beer cellar, cook haus and bakery for traditional German food and pilsner beers. Showtime entertainment and live music every day of the week.
BrewDog Manchester
Scottish Mutual House, 35 Peter St, Manchester M2 5BG
Overlooking Peter Street, the bar has an enormous glass frontage creating an ideal destination for burger and beer lovers.
Beermoth
70 Tib St, Manchester M4 1LG
An award-winning beer café situated in Spring Gardens Manchester, showcasing incredible beers from all around the world.
"Club Brass
Hotel Gotham"
100 King Street, Manchester, M2 4WU
Exlclusive, members only 7th floor lounge bar, in Hotel Gotham.
Salut Wines
11 Cooper St, Manchester M2 2FW
Airy, industrial-chic bar with mezzanine and pendant lights, for wines by the glass and tapas.
Grand Pacific
50 Spring Gardens, Manchester M2 1EN
Opulent interiors take their inspiration from the age of exploration at this venue for global food.
Flok
5 Stevenson Square, Manchester M1 1DN
Sherry and wine bar and eatery offering a large and imaginatively sourced wine list with a Mediterranean influenced menu of sharing plates.
Atlas Bar
376 Deansgate, Manchester M3 4LY
Situated in the railway arches of Deansgate, Atlas Bar has been a Manchester icon for two decades, and has matured into an elegant, quality bar specialising in gins from around the world
Peaky Blinders Manchester
23 Peter St, Manchester M2 5QR
This speakeasy vibe bar, restaurant and live music venue, is inspired by the Peaky Blinders TV series, serving beer in tankards and specially created period cocktails in vintage glassware.
Junkyard Golf Club
2 First St, Manchester M15 4RP
a crazy golf experience with two 9 hole courses of twisted junk, bad puns & secret bars.
Mancoco Ltd
84 Hewitt St, Manchester M15 4GB
Artisan Coffee Bean roasters and Coffee Bar in the heart of Manchester City Centre
"The Ivy Spinningfields
Manchester"
The Pavilion, Byrom St, Manchester M3 3HG
Occupying an impressive space within the new development, The Pavilion, The Ivy Brasserie serves modern British classics whilst the The Ivy Asia and Bar is located on the second floor. There is a central glamorous late night bar and the restaurant is illuminated with a show-stopping green serving Asian-inspired cocktails and sharing dishes.
Restaurant MCR
18-22 Bridge Street, Spinningfields, Manchester
restaurant MCR is the new home of chef Aiden Byrne. Delivering an elegant fine dining experience in a relaxed and inviting setting.
Adam Reid at The French
16 Peter St, Manchester M60 2DS
The legendary restaurant at The Midland Hotel in Manchester, now under the guidance of Adam Reid
WOOD Manchester
Jack Rosenthal Street, Manchester M15 4RA
Set up by former MasterChef winner Simon Wood this restaurant offers unintimidating high end dining. Bringing together passion & creativity with powerful flavours.
Umezushi
4, Mirabel St, Manchester M3 1PJ
a relaxed and intimate sushi bar serving a Japanese-influenced menu.
Tattu Restaurant and Bar
3 Hardman Square, Gartside St, Manchester M3 3EB
Tattu Restaurant & Bar offers contemporary Chinese cuisine, fusing traditional Asian flavours with exquisite presentation
San Carlo Cicchetti
98-116 Deansgate, Manchester M3 2GQ
Cicchetti Manchester boasts delicious italian all day dining from the renowned Italian family owned San Carlo Restaurant Group.
Brasserie Abode
107a Piccadilly, Manchester M1 2DB
A relaxed all-day and glamorous grand European brasserie & bar. From breakfast to lunches, dinner, classic cocktails and great music.
Australasia
The Avenue, Spinningfields, Manchester M3 3AP
Modern Australian food including Indonesian and Japanese influences, served in a subterranean venue.
Rosso Restaurant & Bar
43 Spring Gardens, Manchester M2 2BG
Housed in a Grade II Listed building, Rosso Restaurant Manchester presents fine Italian cuisine and exquisite wines in a magnificent and contemporary setting.
Hawksmoor Manchester
184-186 Deansgate, Manchester M3 3WB
A British steakhouse and seafood restaurant on Deansgate. Grass-fed beef from small British farms & sustainably-sourced seafood from the South coast.
Ibérica Spinningfields
14-15, The Avenue Spinningfields, Spinningfields Square, Hardman St, Manchester M3 3HF
Airy space with long bar and mezzanine open kitchen, for classic and modern Spanish-Asturian dishes.
Fazenda Manchester
The Avenue, Manchester, spinningfields M3 3AP
Brazilian rodizio dining room for all-you-can-eat steaks and skewered meats, carved at the table.
Yuzu
39 Faulkner St, Manchester M1 4EE
Offering authentic Japanese cuisine and informal dining in a relaxed atmosphere. The menu features fresh, locally sourced produce.
63 Degrees
104 High St, Manchester M4 1HQ
Informal fine dining in a Parisian-style brasserie with a menu of innovative Modern French dishes.
Mamucium
6 Todd St, Manchester M3 1WU
Named after the Roman fort that was the birthplace of modern Manchester, this restaurant serves a refined but relaxed menu reworking classic British dishes.
The Grill on New York Street
New York St, Manchester M1 4BD
Refined steakhouse with cool, modern, neutral decor, serving aged British beef and cocktails.
La Bandera
2 Ridgefield, Manchester M2 6EQ
Market-fresh, classic Spanish cuisine in airy, contemporary space with yellow booths and banquettes.
James Martin Manchester
2 Watson St, Manchester M3 4LP
Elegant, Modern British casino restaurant in former industrial warehouse serving up classic, changing seasonal à la carte and special menus.
Peter Street Kitchen
Free Trade Hall, Peter St, Manchester M2 5GP
Embracing the art of shared dining this restaruant serves a mix of contemporary Japanese and Mexican inspired small plates, complemented with fine wines, sake and signature cocktails.
Masons Restaurant Bar
Ground Floor, Manchester Hall, 36 Bridge St, Manchester M3 3BT
Located in the grade II listed Manchester Hall, the former Freemasons Hall this restaurant serves a British menu using local produce with a world influence.
Ocean Treasure 23
23 Peter St, Manchester M2 5QR
Upmarket, modern Cantonese restaurant in a stylish and unique setting, located on the first floor of the Peaky Blinders building.
Tast Catala
20-22 King St, Manchester M2 6AG
Tast is the taste of Catalonia. It's a group of passionate people, led by Chef Paco Pérez, to share their love for Catalonia, for its culture and for its cuisine.
Rudy's Neapolitan Pizza - Peter Street
9 Cotton St, Manchester M4 5BF
Authentic Neapolitan pizzaria on, following the traditions and artistry of pizza from Naples – the birthplace of pizza.
Gaucho
2A St Mary's St, Manchester M3 2LB
Designer furnishings and cowhide fabrics create a lavish backdrop for Argentine food and wine.
Dishoom Manchester
32 Bridge St, Manchester M3 3BT
Dishoom pays loving homage to the Irani cafés that were once part of the fabric of life in Bombay. Serving Iranian/Indian food with a british twist.
Indian Tiffin Room
2 Isabella Banks Street, First Street, Manchester, M15 4RL
specializes in authentic Indian street food that is inspired by the bustling streets of India.
Chaophraya
19 Chapel Walks, Manchester M2 1HN
Serving elegant Thai cuisine, nestled in a beautiful historic building, the cosy dining room blends contemporary design with traditional Thai flourishes.
Ban Di Bul
77 Princess St, Manchester M2 4EG
Bright, modern restaurant offering traditional Korean dishes such as mandu dumplings and kimchi.
Bundobust
61 Piccadilly, Manchester M1 2AG
Gujurat-inspired street food and the world's best craft beer, from both local and international breweries.
Asha's Manchester
47 Peter St, Manchester M2 3NG
Contemporary Indian cuisine in a sophisticated, low-lit venue with plush drapes and gold finishings.
Mackie Mayor
1 Eagle St, Manchester M4 5BU
Smithfield's Grade II Listed 1858 Market. Overhauled & reimagined into a food hall with communal dining and a selection of traders offering a range of delicious cuisines.
Takk
6 Tariff St, Manchester M1 2FF
Nordic inspired coffee company with an aim of providing a welcoming space to work, meet and talk, whilst enjoying a tasty cup of coffee.
The Spa at the Midland
Peter St, Manchester M60 2DS
A luxurious spa dedicated to helping you relax, unwind and enjoy quality treatments at The Midland hotel.
Macdonald Manchester Hotel & Spa
London Road, Manchester, M1 2PG
a sophisticated and sumptuous spa with luxury rooms and signature thermal suite featuring hot rock sauna, infra-red sauna, eucalyptus scented steam room, sensation shower, ice igloo and heated loungers.
Sienna Spa and Health Club
Radisson Blu Edwardian, Peter St, Manchester M2 5GP
Sienna Spa & Health Club combines a luxurious day spa with excellent leisure and fitness facilities.
The Lowry Hotel Spa
50 Dearmans Pl, Salford M3 5LH
Find peace and serenity in the spa at The Lowry Hotel with a variety of QMS and Elemis skin treatments focusing on beauty and total relaxation.
Livingwell Health Club Manchester Deansgate
303 Deansgate, Manchester M3 4LQ
Living Well Health Club is based within the four star Hilton Manchester Deansgate Hotel, Beetham Tower, offering gym, swim and spa facilities.
The Y Club
Liverpool Rd, Manchester M3 4JR
Centrally situated in Castlefield, Manchester's Y Club is the largest and friendliest health club within the city centre.
Bannatyne Health Club And Spa
3 Chepstow Street, Manchester, M1 5FW
Part of the Bannatyne chain for premium gyms and spas with state-of-the-art facilities, an extensive selection of over 50 exercise classes a week and a luxurious swimming pool with sauna and spa pool.
Train CrossFit Manchester
6 Arundel St, Manchester M15 4JZ
Gym offering crossfit, conditioning, yoga, weightlifting, gymnastics & strength training for all abilities.
The Gym
The Great Northern 253 Deansgate Manchester, M3 4EN
This gym offers over 170 pieces of high-tech equipment including cardio and resistance machines with 20+ free exercise classes a week.
Castlefield Urban Heritage Park
Duke St, Manchester M3 4AG
Britain's first Urban Heritage Park, containg not only a wealth of Manchester's industrial heritage – railway viaducts, canal systems and museums, but also many tourist attractions including waterside pubs, pleasant walks, boat trips and frequent events in the Outdoor Arena.
Saint John's Gardens
Lower Byrom St, Manchester M3 4AP
Previosuly the site of St John's Church, and now a tranquil garden.
Hulme Park
Stretford Rd, Manchester M15 4ZY
Large park including a children's play area, Multi use games area, football pitch and BMX and skate board park
Harvey Nichols
21 New Cathedral Street, Manchester M1 1AD
Sleek, high-end fashion store with international designer labels, plus homeware, beauty and cafes.
Selfridges Manchester Exchange
1, Exchange Square Central, Corporation St, Manchester M3 1BD
Glass-fronted department store for iconic, high-end fashion, beauty and electronic designer brands.
King Street
King St, Manchester M2 4LQ
Indulge in collections from international and British designers on Manchester's King Street including Armani, Tommy Hilfiger and Vivienne Westwood.
Hervia
40 Spring Gardens, Manchester M2 1EN
Designer clothing, footwear and accessories for men and women.
Pretty Green
81 King St, Manchester M2 4AH
Founded in 2009 by Liam Gallagher, this mens clothing brand unites people through a love of music and fashion.
Belstaff
76-80 King Street, Manchester M2 4NH
Buy designer leather jackets, clothing & accessories for men & women to enjoy personal shopping on King Street.
DKNY
76-80 King St, Manchester M2 4NH
A New York-based fashion house specializing in luxury clothing and accessories for men and women.
Manchester Arndale
Manchester, M4 1AZ
Shopping centre in the heart of Manchester, home to over 200 stylsih stores from the leading high street names, to lots of smaller, stylish specialists and food outlets
Lowry Outlet
The Quays, Salford M50 3AH
Large outlet mall in redeveloped docklands with clothing, houseware and beauty product shops.
Manchester Craft & Design Centre
17 Oak St, Manchester M4 5JD
Victorian setting for artists' studios with contemporary jewellery, ceramics and art for sale.
"The Avenue
Spinningfields"
The Avenue, Spinningfields, Manchester, M3 3FL
The Avenue in Spinningfields showcases the best international fashion collections in the North West. Featuring collections from Armani, Mulberry, Flannels, Nicky Clarke, Oliver Sweeney and Phillip Stoner and many more fashion must-haves.
Barton Arcade
48 Barton Square, Manchester M3 2BH
A victoria shopping and dining arcade located between Deansgate and St Ann's Square.
Manchester Art Gallery
Mosley St, Manchester M2 3JL
One of the country's finest art collections in spectacular Victorian and contemporary surroundings.
Museum of Science and Industry
Liverpool Rd, Manchester M3 4FP
A large museum devoted to the development of science, technology and industry with emphasis on the city's achievements in these fields.
The Whitworth
Oxford Rd, Manchester M15 6ER
Art gallery in Whitwrth park, home to some of the UK's finest collections of art and design including modern and historic fine art, prints, textiles and a rare collection of wallpapers.
Castlefield Gallery
2 Hewitt St, Manchester M15 4GB
A contemporary art gallery with a changing programme of exhibitions and educational events.
HOME Manchester
2 Tony Wilson Place, Manchester M15 4FN
A centre for international contemporary art, theatre and film
Manchester Museum
University of Manchester, Oxford Rd, Manchester M13 9PL
A museum displaying works of archaeology, anthropology and natural history, owned by the University of Manchester
Palace Theatre
97 Oxford St, Manchester M1 6FT
The Palace Theatre plays host to a wide range of musicals, drama, children's shows and major concerts.
Saul Hay Gallery
Railway Cottage, Castle Street, Manchester M3 4LZ
A progressive, independent, art gallery in Manchester. Buy, collect, commission original art, paintings, sculpture and prints.
The Bridgewater Hall
Lower Mosley St, Manchester M2 3WS
International concert venue, built to give the best possible space for music. The Hall hosts over 250 performances a year including classical music, rock, pop, jazz, world music and much more.
Opera House Manchester
3 Quay St, Manchester M3 3HP
One of Manchester's premier, live entertainment venues located on Quay Street in the heart of the city.
Albert Hall
27 Peter St, City Centre, Manchester M2 5QR
Albert Hall is a forgotten Wesleyan chapel in the centre of Manchester, restored and resurrected as an unrivalled events venue.
Contemporary Six - The Gallery
37 Princess St, Manchester M2 4FN
A leading independent art gallery specialising in original paintings. Enjoy original works of quality and substance by emerging and internationally acclaimed artists.
Royal Exchange Theatre
St Ann's Square, M2 7DH Manchester
A historic venue that produces new theatre in-the-round, in communities, on the road and online.
Manchester Cathedral
Victoria St, Manchester M3 1SX
An essential visit in the City sporting a gorgeous interior with the best late medieval woodwork in the north
Manchester Central Library
St Peter's Square, Manchester M2 5PD
Headquarters of the city's library and information service.
Ordsall Hall
322 Ordsall Lane, Salford M5 3AN
Dating back over 600 years, it is one of the region's finest examples of an Elizabethan black and white half-timbered manor-house.
The Lowry
Pier 8, The Quays, Salford M50 3AZ
Theatre and gallery using visual and performing arts to enrich people's lives.
Castlefield Bowl
101 Liverpool Road, Castlefield, Manchester M3 4JN
Outdoor music and entertainment venue, with a 8,000 person capacity, which has played host to a number of packed out gigs.
John Rylands Library
150 Deansgate, Manchester M3 3EH
Free to visit and open seven days a week, it was created more than 100 years ago as a gift to Manchester and its people.
The Portico Library & Gallery
57 Mosley Street, Manchester, M2 3HY
This 19th century venue includes over 25,000 printed volumes and a growing archive, with a wide selection of travel literature, novels, biographies and history.
National Football Museum
Urbis Building Cathedral Gardens, Todd St, Manchester M4 3BG
The world's biggest and best football museum. Delve into the social history and culture of the much-loved sport, with fascinating objects and exhibitions showing how football became the game of our lives.
Manchester Three Rivers Gin
City of Manchester Distillery, 21 Red Bank Parade Manchester M4 4HF
The City of Manchester Distillery, home to Manchester Three Rivers Gin is the City Centre's first distillery and award-winning interactive Gin Experience, offering visitors a unique opportunity to appreciate and participate in the Gin Renaissance.
Manchester Arena
Victoria Station, Hunts Bank, Manchester M3 1AR
One of the busiest and biggest live entertainment venues in the world.
Tesco Express
Maybrook House, 50-52 Deansgate, Manchester M3 2FE
supermarket
Sainsbury's Local
130-136 Deansgate, Manchester M3 2GQ
supermarket
Lakeland grocers
345 Deansgate, Manchester M3 4LG
Grocers and convienience store
Sainsbury's Local
Overseas House, Quay St, Manchester M3 3HN
supermarket
Tesco Express
2, Overseas House, 11 Quay St, Manchester M3 3BB
supermarket
Sainsbury's
100 Regent Rd, Salford M5 4QU
supermarket
Asda Hulme Superstore
100 Princess Rd, Manchester M15 5AS
supermarket
M&S Manchester Spinningfields
Unit 1&2, Quay St, Manchester M3 3EB
supermarket
Manchester Spring Gardens Post Office
26 Spring Gardens, Manchester M2 1BB
Post office
Hulme Post Office
170 Stretford Rd, Manchester M15 5TL
Post office
Cornbrook Medical Practice
204 City Rd, Manchester M15 4EA
NHS GP practice
St Mary's Hospital
Oxford Rd, Manchester, Greater Manchester, M13 9WL
Hospital, next to the Manchester Royal Infirmary
Manchester Royal Infirmary
Oxford Rd, Manchester M13 9WL
Hospital, next to St Mary's Hospital
City Health Centre
32 Market St, Manchester M1 1PL
NHS GP practice
The University of Manchester
Oxford Rd, Manchester M13 9PL
The largest single-site university in the UK
Manchester Metropolitan University
All Saints Building, All Saints, Manchester M15 6BH
6 faculties, 12 research centres and a range of departments, schools and professional support services
Wagtales Pet
275 Deansgate, Manchester M3 4EW
Professional Dog Walkers & Boarders. Bespoke luxurious dog accessories & products, natural treats & food.
The Principal Manchester
Oxford St, Manchester M60 7HA
A collection of city-centre hotels based in landmark buildings in exceptional locations across the UK.
Deansgate Square
Owen Street Manchester, United Kingdom
Home to West Tower's luxury amenity block, the neighbouring residential towers South and East are home to apartment owners.
Travel time to key destinations
Live in Manchester's most iconic destination - moments from Deansgate station and a 7-minute walk to the centre of the city. You couldn't be closer to the city's finest bars, restaurants, shops and galleries.
By foot
Castlefield
Deansgate Station
Spinningfields
Arndale Centre
Piccadilly Station
Northern Quarter
By bike
Castlefield
Deansgate Station
Spinningfields
Arndale Centre
Northern Quarter
Piccadilly Station
By car
A57 (Ring Road)
University of Manchester
Piccadilly Station
Arndale Centre
From Deansgate Station
St Peter's Square
Exchange Square
Piccadilly Gardens
Victoria Station
Manchester Airport
By bus
Piccadilly Station
Trafford Centre (X50)
By metro
St Peter's Square
Exchange Square
Piccadilly Gardens
Victoria Station
Manchester Airport